Published on Monday, December 19, 2011 by Kathy McCabe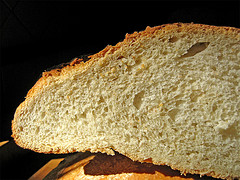 One of the great joys of eating in Italy is munching on fresh Italian bread. Yet when you bite into your first piece of while visiting Tuscany (and also much of Umbria), you might be surprised at what is missing. It might take a moment to realize that there's no salt! This type of bread is called pane toscano.  So how did the Tuscans miss this key ingredient that you will find in breads in other Italian destinations?
The most popular historic theory for the lack of salt in Tuscan bread is that age-old social menace: taxes! In the 12th century, Pisa – an independent republic – controlled access to the sea and in a bid to extort more money from the Florentines, raised taxes on salt. The people of Florence wouldn't bite (no pun intended) and local bakers began making bread without salt.
Another theory is that food in Tuscany has always been flavorful from the salty meats to the spicy sauces to the bite-yPecorino and powerful olive oil — and the bread was developed as a complement to these strong flavors. No matter what the reason is, Tuscan bread has been salt-less for many centuries and won't be changing anytime soon.
By Kathy McCabe
Planning a trip to Tuscany? Perillo Tours has been leading group trips throughout Italy since 1945 and ItalyVacations.com can custom design an independent itinerary for your dream Italy vacation!
Taking your first trip to Italy? Learn everything you need to know when you get your FREE copy of The First Timer's Guide to Italy by ItalyTravel.com contributor Kathy McCabe.
Photo by fugzu, flickr.com