Published on Friday, January 27, 2012 by JacobMartin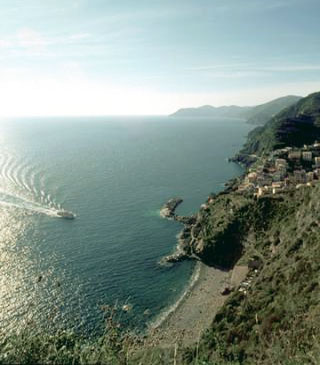 Do you love hiking? Then get set for a new adventure at Cinque Terre in Italy!
Cinque Terre is a group of five colorful villages with unmatched scenic beauty. The five Cinque Terre villages are Monterosso al Mare, Vernazza, Corniglia, Manarola and Riomaggiore. Cinque Terre faces the picturesque Ligurian coast and serves as a great escape for hike lovers!
Italy adventure tours are incomplete without hiking Cinque Terre. The four main trails connecting the Cinque Terre villages have been turned into a national park. The national park is open for fixed hours a day and you are expected to pay a fee to enter.

Hiking from Riomaggiore to Manarola:
This 20-30 minutes hike is the easiest trail of all as the surface is flat and paved. It is often referred to as 'Italian lover's lane', and you are likely to find numerous colorful love notes all the way. It is a wonderful place to be with your loved ones.
Hiking from Manarola to Corniglia:
Initially the surface is flat but as you go on you will be able to feel the gradual inclination because, unlike other four Cinque Terre villages, Corniglia is not at sea level. In this 20 minute trail you will find train tracks running between the trail and waters. There are more than 360 steps to get to the top. If you don't want to climb steps you can very well opt for the shuttle bus.
Hiking from Corniglia to Vernazza:
This 1.5- 2 hours trail heads gradually downhill for the most part. Parts of the trail are made up of irregular stone steps which require a bit of attention when you're walking. It can get extremely narrow at times, and in some areas you've got a wall of vineyards or other vegetation on one side and a cliff on the other.
Hiking from Vernazza to Monterosso al Mare:
This is the most challenging trial of all with much ups and steep downs. Gorgeous and aromatic wine yards and orchids make up your way. It can take up to 2 hours to hike this trail.
Thus hiking Cinque Terre can make your Italy travel tour more adventurous and fun! Plan your travel to Italy with PerilloTours.com to make it more pleasant and memorable.