Published on Monday, January 9, 2012 by Kathy McCabe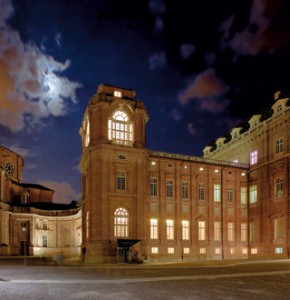 If your travels take you to the Italian region of Piedmont, don't miss La Venaria Reale. The former country retreat of the House of Savoy is one of the largest royal palaces in the world. It was built in the 17-th century for Duke Charles Emmanuel II who wanted a hunting lodge outside of Turin. The name "La Venaria Reale" derives from the Latin Venatio Regia meaning "Royal Hunt."
 To describe just how magnificent the estate – comprised of a Baroque palace, stables gardens and a 235-acre hunting preserve- was during its prime, consider a old local proverb that claimed  leaving Turin without visiting Venaria was like "seeing the mother but not the daughter." Venaria Reale began its decline into disrepair when Napoleon's troops arrived in the area in 1798 and used the estate for army barracks.
2009 marked the completion of $300 million in renovations. Consider some of the restoration statistics: 800 people restored 1.5 million square feet of stucco and plaster and 11,000 square feet of frescoes. To bring the gardens back to their former opulence, 40,000 plants were interred. The property, included in the UNESCO World Heritage List, has often been compared to Versailles and it is easy to see why. Many concerts and special events are held at the estate; see the website for more details.
Also don't miss a chance to eat at the palace's hip, high-end restaurant Dolce Stil Novo alla Reggia (meaning "sweet new style" – derived from the 13th-century Italian literary movement of which Dante Alghieri was a notable participant). Lauded Chef Alfredo Russo also offers private cooking classes.
By Kathy McCabe
Ready to travel to Piedmont this year? Perillo Tours has been leading group trips throughout Italy since 1945 and ItalyVacations.com can custom design an independent itinerary for your dream Italy vacation!
Taking your first trip to Italy in 2012? Learn everything you need to know when you get your FREE copy of The First Timer's Guide to Italy by ItalyTravel.com contributor Kathy McCabe.