Published on Monday, January 2, 2012 by Kathy McCabe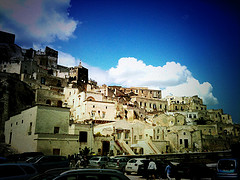 One of the most unusual places I have visited in Italy is the city of Matera in the southern region of Basilicata. Matera has a unique landscape made up of sassi, which are ancient cave shelters built into tufa rock. Stacked on top of each other, they almost look like a honeycomb from a distance. The old, weathered look of the sassi and Matera inspired Mel Gibson to film The Passion of The Christ here with the city standing in for ancient Jersusalem.  
Sadly, peasants and their animals lived together in the squalor of these makeshift homes for centuries. Author Carlo Levi, who was sent into exile here by Mussolini, wrote of the town's overwhelming poverty in his 1947 classic Christ Stopped at Eboli. Levi chronicled the peasants' futile efforts to extract a living from this unforgiving land. The book caused such an uproar that the government moved some 20,000 peasants out of the sassi, yet some continued to live here until the 1960s.
The sassi were named a UNESCO World Heritage Site a decade ago and a number of new hotels built into the rock have allowed modern tourists to experience these unique caves — but in a more luxurious way than they were used in years past.
By Kathy McCabe
Ready to visit Matera and Basilicata? Perillo Tours has been leading group trips throughout Italy since 1945 and ItalyVacations.com can custom design an independent itinerary for your dream Italy vacation!
Taking your first trip to Italy? Learn everything you need to know when you get your FREE copy of The First Timer's Guide to Italy by ItalyTravel.com contributor Kathy McCabe.
Photo by Io Medisimo, flickr.com