Published on Sunday, January 22, 2012 by Kathy McCabe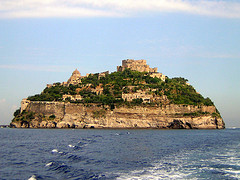 When it comes to the islands of the Bay of Naples, off the Amalfi Coast, the island of Capri gets the most attention. There is good reason; she's stunning, flashy and dramatic and like a Hollywood starlet, you just can't take your eyes off of her. But when you're in the mood for a quieter, soulful alternative, hop on the hydrofoil or ferry (there's a weekly green cruise from Sorrento, too) for a visit to neighboring Ischia. Here's what makes this mountainous island special –
Hot Springs and Volcanic Mud: Ischia is part of an underground volcanic network and as a result has more than 100 hot springs, promising year-round swimming and producing mineral water and volcanic mud (fango mud it is called) purported to offer the fountain of youth. Many of the island's hotels have their own springs and treatment centers. You can also get a day pass to visit a thermal park like Giardini Poseidon.
Gardens:  The island's geology and location have made it a natural place to cultivate gardens. One of the most famous is La Mortella (place of Myrtles) which was tendered by English composer William Walton,  and his wife, for 35 years. You can also visit Villa Ruffino, home to a botanical garden that has one of Europe's most extensive cultivation of cacti.  
Aragonese Castle: The most striking landmark on the island is Castello Aragonese, a fortress emerging from a rocky islet that in various incarnations has been part of the island's history for thousands of years.The complex includes a cathedral, former monastery and remnants of ramparts and is worth a visit It is easy to get to the island since Castello Aragonese was connected to the village of Ischia Ponte by a causeway built in 1438. You can even spend the night in the Albergo Il Monastero at the top of the fortress.
Autenticity:  Just strolling around the port, renting a beach chair or cabana, you will feel "the real Italy" here on Ischia. This is where many average Italians vacation to get away from it all. You can too and get a slice of Italian life.
By Kathy McCabe
Ready to travel to the Amalfi Coast this year? Perillo Tours has been leading group trips throughout Italy since 1945 and ItalyVacations.com can custom design an independent itinerary for your dream Italy vacation!
Taking your first trip to Italy in 2012? Learn everything you need to know when you get your FREE copy of The First Timer's Guide to Italy by ItalyTravel.com contributor Kathy McCabe.
Photo by Renzo Ferrante, flickr.com