Published on Wednesday, February 29, 2012 by Kathy McCabe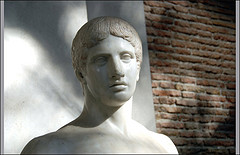 The most important archaeological museum in all of Italy is the National Archaeological Museum of Naples. No visit to Naples Italy is complete without eating lots of pizza and visiting this spectacular museum with artifacts and art from Greek, Roman and Renaissance periods. Visiting the archaeological museum is the perfect complement to a tour of Pompeii or Herculaneum since many items found at these nearby sites now reside in the museum. There's also a comprehensive Egyptian section assembled in the 1820s from the private collections of Cardinal Borgia and to antiquarian Giuseppe Picchianti.
The core of the museum is the Farnese Collection which was moved here in 1777 from what was the Royal Bourbon Museum.  These include many treasures of Pompeii, Herculaneum, Stabia and other sites around the region of Campania. Sculptures abound…one of the most famous is Doriforo (Spear Bearer) from Pompeii. The mosaics are one of the museum's biggest draws. If you visit for no other reason, see as many mosaics as you can. There are also frescoes, glassware, silver, armour, glazed terracotta and more – a giant treasure chest.
The archeaological museum also houses what is considered the most important collection of inscriptions in the world.  You will see examples of the Greek, Oscan, Etruscan and Latin languages. A collection of coins and medals from Greek and Roman to the 19th century numbers 200,000. Those who want to explore even far back will enjoy the pre-history and proto-history exhibitions, dating to the Paleolithic Era.
The museum's Secret Room or Secret Museum is for adults only and houses examples of Roman erotica as well as sexually explicit finds from Pompeii. You won't be the first one to see these items. Tourists have been checking them out since the mid-19th century, though the room/museum was closed for a century or so in between due to controversy.
By Kathy McCabe
Ready to travel to Italy this year? Perillo Tours has been leading group trips throughout Italy since 1945 and ItalyVacations.com can custom design an independent itinerary for your dream Italy vacation!
Taking your first trip to Italy in 2012? Learn everything you need to know when you get your FREE copy of The First Timer's Guide to Italy by ItalyTravel.com contributor Kathy McCabe.