Published on Friday, February 3, 2012 by Kathy McCabe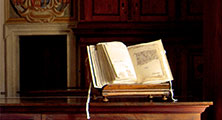 If you're traveling to Italy in 2012, you don't want to miss the following special museum exhibitions in Rome, Florence and Venice:
Rome:  Lux in Arcana: The Vatican Secret Archives Revealed  is the must-see exhibition in Rome this year. Over 100 original documents — spanning 400 years of Papal history — will leave the confines of Vatican City for the first time for display at The Capitoline Museums. The records are usually kept in Vatican Secret Archives, a highly secure building behind St. Peter's Basilica. Some of the documents in the exhibit include an appeal by the English Parliament asking the Pope to annul Henry VIII's marriage to Catherine of Aragon and items from the heresy trial of Galileo, whose scientific theories attracted the hostility of the Catholic Church. The Lux Arcana exhibit runs from March through September 2012. (Book your Rome vacation)
Florence: Palazzo Strozzi hosts Americans in Florence: Sargent and the American Impressionists March 3rd through July 15, 2012.  The exhibition explores  relationship American impressionist painters had with Italy, and with Florence itself, at the end of the 19th century and beginning of the 20th century. Numerous American painters came to Florence as part of as a part of a post-Grand Tour wave and  formed a tight community with other American and British artists and writers. Works on display will include those of John Singer Sargent, Mary Cassatt and James Abbott McNeill Whistler. (Book your Florence vacation)
Venice: Triangular shaped Punta della Dogana (the old customs house for Venice) separates the Grand Canal and the Giudecca Canal. Several years ago it re-opened as a center for contemporary art with a permanent exhibition of works from the François Pinault Collection. The exhibition In Praise of Doubt, which runs through the end of 2012,  includes works from the Pinault Collection that have never been on display before. In total, visitors can see  60 works by 20 contemporary giants including Maurizio Cattelan, Jeff Koons, Jeff Bauman, Adel Abdessemed, Marcel Broodthaers, Dan Flavin, Thomas Schutte and Charles Ray.  (Book your Venice vacation)
By Kathy McCabe
Ready to travel to Italy this year? Perillo Tours has been leading group trips throughout Italy since 1945 and ItalyVacations.com can custom design an independent itinerary for your dream Italy vacation!
Taking your first trip to Italy in 2012? Learn everything you need to know when you get your FREE copy of The First Timer's Guide to Italy by ItalyTravel.com contributor Kathy McCabe.