Published on Thursday, February 9, 2012 by Daniel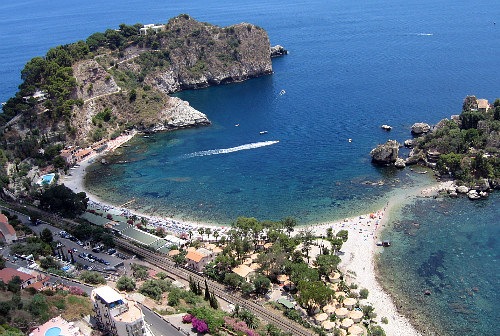 Sicily, the island of awe-inspiring beauty, is not only the largest island in Italy, but in the Mediterranean Sea too. Sicily is as much famed for its cuisine and fascinating history, as it is for its breathtaking beaches. It has so many beautiful beaches, that a new traveller might find it really difficult to settle on the best beaches. So, here's a small list of some of the best Sicilian beaches that should top the list of your travel itinerary.
First on the list is Taormina. Also known as Lido Mazzarò, this wonderful beach can very well be called as the well-equipped beach in Sicily. It is a paradise for couples on a romantic beach vacation. The views of Mount Etna and the Ionian coast are simply spectacular. You can also view the Greco-Roman amphitheatre and the astounding sea in the background. With bars and restaurants lines across the border of the sands, one will have no trouble satiating their hunger or thirst.  
Next on the list is Mortelle. A Sicily vacation will be incomplete without a visit to this place. This is where you'll find the best sands in the whole of northern Sicily. Situated 12km north of Messina, this island has several excellent beaches. Even the locals hit these beaches to beat the summer heat. In addition to the wonderful beaches, you have other attractions here, such as the Gothic Church of Santa Maria Alemanna, the National Museum of Messina, the rebuilt Norman Cathedral, and more.
Spiaggia Sabbie Nere (Vulcano) certainly deserves a place in this list of Italy tourist attractions. Best in the Aeolian archipelago, it is also known as the 'Black Sands' beach. Situated on the island of Vulcano, this black sand beach will appear in stark contrast to the powdery white beaches that you are so used to. A boat excursion to reach this place will be memorable. You can also be a part of other exciting activities like hike to the top of the Gran Cratere. The view from the top is simply breathtaking.
Not just these beaches, Sicily is home to more such wonderful beaches. So, if you want to go on a romantic beach vacation to Italy, then make sure you book your trip with PerilloTours.