Published on Friday, February 17, 2012 by Kathy McCabe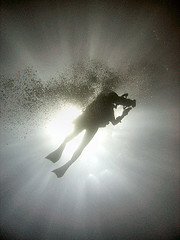 Make your next Italy vacation an underwater adventure by scuba diving in Italy. One of the best places to scuba dive in Italy is near Cinque Terre, a stunning collection of cliffside villages on the northwestern coast. Many visitors choose to hike or take the train through Cinque Terre and admire the water from above…but there is much to see below and this coastline is one of the best places to scuba dive in the Mediterranean.
Nearby Portofino is the gateway to Portofino Marine Park, a collection of underwater dive sites that have been protected since 1998. The strict protection means that  marine life you wouldn't find elsewhere in the Mediterranean thrives here. You will see moray eels, scorpion fish, lobster, barracuda, octopus, tuna and groupers. You might even see some dolphins. Explore red coral and cave formations.
There's a nearby dive shop  that has a license for dives here and there are suitable dives for all levels, from beginning to advanced scuba divers.  The most famous dive in all of the Mediterrean is in the marine park: "The Christ of the Abyss" is known the world over. Its a giant submerged bronze statue lowered in memory of Dario Gonzatti, one of the pioneers of scuba diving.
If you like diving wrecks, you will find the largest wreck in the world – the Milford Haven – right here. There are numerous other shipwrecks to scout out, from the 18th century to World War Two. For divers, the Cinque Terre and Portofino are not to be missed!
By Kathy McCabe
Ready to travel to Italy this year? Perillo Tours has been leading group trips throughout Italy since 1945 and ItalyVacations.com can custom design an independent itinerary for your dream Italy vacation!
Taking your first trip to Italy in 2012? Learn everything you need to know when you get your FREE copy of The First Timer's Guide to Italy by ItalyTravel.com contributor Kathy McCabe.
Photo by Tim Sheerman-Chase, flickr.com