Published on Tuesday, March 13, 2012 by JacobMartin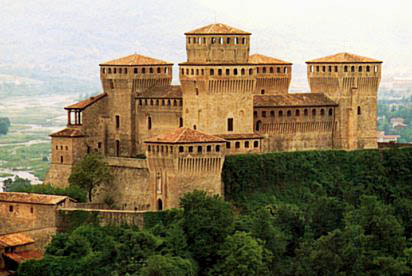 Castles in Italy represent the rich architectural culture of Italy. Italian castles are a blend of romance silhouettes and rugged landscapes. Parma, located in the northern Italian region of Emilia-Romagna, is famous for its art, architecture, cheese and ham. Apart from these, Parma is also famous for its castles.
Torrechiara castle is one of the most spectacular Parma castles. Located south of Parma, Torrechiara was built between 1448 and 1460 by Pier Maria Rossi. Known for its mild climate, this splendid piece of architecture remains unchanged since the time it was built.
The next most visited castle of Parma is the Bardi castle. Built in the 9th century, this castle still stands as a treasure of the Middle Ages. This castle was strategically built in a position between the Ceno and Noveglia rivers to prevent the Hungarian invasion. Visit Bardi castle and explore the lifestyle of medieval people.
Rocca Sanvitale di Fontanellato is a natural paradise on earth that is located in the small town, Fontanellato. This Rocca Sanvitale is surrounded by a huge moat with a priceless painting, the Room of Diana and Actaeon by Parmigianino. Get a beautiful view of the surrounding towns from this Rocca Sanvitale and click a few pictures.
Another enchanting castle in Parma is the castle of Roccabianca. This castle, built 1450 and 1465 by Pier Maria Rossi, was given as a gift to his beloved Bianca Pellegrini. Visit little of the remains of this beautiful place and enjoy the architecture of this fairy tale castle.
Ready to visit these marvelous castles near Parma? If yes, then use Italy travel tips from Italy travel and plan your trip with PerilloTours.com.
Photo By : festivalditorrechiara.it