Published on Saturday, March 31, 2012 by Kathy McCabe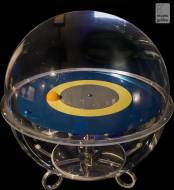 Traveling to Florence Italy soon? Don't miss the new interactive section of Florence's Galileo Museum which was just completed. The permanent exhibition, entitled Galileo and the Measurement of Time is spread out over three rooms and is dedicated to Galileo's fundamental discoveries with regards to the passage of time and how it is measured. The rooms explore everything from the invention of the telescope to planetary movement, the development of the pendulum and other historic Galileo instruments and techniques.
Interactive exhibits with mechanical models and multimedia applications on touch screens will teach visitors about Galileo's involvement in modern clockwork, from revolutionary discoveries to how he created machines to measure time. Ancient mechanical watches and a spectacular replica of the planetary clock created by Lorenzo della Volpaia in 1510 are on display.
This section of the museum was created with the collaboration of Officine Panerai, a popular watchmaking company. They also donated the Jupiterium, a mechanical instrument with a watch and calendar that depict the movements of Jupiter and its four moons, as well as the positions of the sun and the moon. It is made of 1,377 pieces and features a hand-wind movement with a power reserve that can last up to 40 days. Don't miss this exhibit if you're in Florence!
Galileo was condemned years ago for his theory that the sun was at the center of the universe. Today, he is considered the "father of modern science." He was a revolutionary scientist and philosopher who lived and worked in Florence for most of his life.
By Kathy McCabe
Ready to travel to Italy this year? Perillo Tours has been leading group trips throughout Italy since 1945 and ItalyVacations.com can custom design an independent itinerary for your dream Italy vacation!
Taking your first trip to Italy in 2012? Learn everything you need to know when you get your FREE copy of The First Timer's Guide to Italy by ItalyTravel.com contributor Kathy McCabe.