Published on Saturday, March 3, 2012 by Kathy McCabe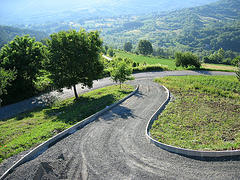 A common question about travel to Italy is, "Should I rent a car in Italy?" There are two major factors to consider when renting a car in Italy:
Where will you be traveling in Italy? If you're sticking to major cities or heavily visited areas with good public transportation (like the Amalfi Coast), you won't need a rental car and it may be a hindrance. But if you're exploring the Italian countryside, you should strongly consider renting a car in Italy.
How comfortable are you with driving? Can you handle fast traffic, narrow roads, mountainous terrain? If none of these scare you, then you will be comfortable renting a car and driving in Italy. But if you're a fearful driver in general, you might prefer to stick to day tours in Italy and have someone else do the driving!
Here are some other things to keep in mind about renting a car and driving in Italy:
All insurance in automatically included in your Italy car rental. You can't opt out of this mandatory insurance.
Manual transmission cars are far more popular and cheaper to rent BUT Italy isn't the place to drive a manual car for the first time. Choose to rent an automatic car in Italy if it makes you more comfortable.
Gas is far more expensive in Italy than in the United States so be prepared when you hit the pump.
It is recommended that you carry an International Driving Permit (available in the U.S. through AAA) when renting a car in Italy. You may not be asked for it at the rental counter but could be asked for it if you are stopped for a traffic violation.
Many of Italy's small towns have narrow streets so you might want to rent a smaller car BUT be sure it will fit all of your luggage.
Be careful about parking. Learn which of the cities you are traveling to have restricted driving and parking zones so that you don't mistakenly get a ticket.
By Kathy McCabe
Ready to travel to Italy this year? Perillo Tours has been leading group trips throughout Italy since 1945 and ItalyVacations.com can custom design an independent itinerary for your dream Italy vacation!
Taking your first trip to Italy in 2012? Learn everything you need to know when you get your FREE copy of The First Timer's Guide to Italy by ItalyTravel.com contributor Kathy McCabe.