Published on Thursday, March 15, 2012 by Daniel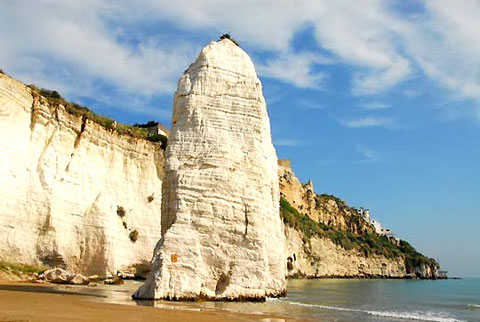 Give yourself a break and a take a relaxing vacation. To unwind there cannot be a better location than Italy. Surrounded by water on all three sides,  Italy is gifted with great beaches. For people who love sultry summer beaches, Italy is the right tourist spot. Summer in Italy is filled with bright sunshine and numerous summer festivals.
Beach towns in Italy are a great place for family vacation. Vieste is one such town where you can relax with your family, immerse yourself in the beauty of the surroundings. Vieste is situated on the promontory of Gargano in the region of Puglia, which sits on the heel of Italy's boot.The Gargano promontory rock has been eroded and shaped by the wind and sea water offering a spectacular view. Its long stretched beaches, filled with golden sand offer a visual treat.
Pizzomunno beach in Vieste is another picturesque tourist destination. The enormous limestone cliff of Pizzomunno is the main feature of this beach. There are many legendary stories about this cliff, explore them with your family; it is definitely worth a visit.
Another place not to be missed in Vieste is the Museo Malacologico, an interesting mollusc museum that attracts not only kids, but also elders. This three-room museum contains 900,000 land-snails along with sea and fresh-water shells that are colorfully beautiful.
Apart, from the breathtaking locales, Vieste is also famous for its musical concerts, film festivals, art and craft fairs, Italian ballet shows and much more. Vieste dates back to the 9th century.
Vieste certainly deserve a spot in top Italy travel destinations. Plan a memorable trip to Vieste with your family, by following Italy travel advices offered by PerilloTours.
Photo By : kykitaly.com