Published on Thursday, April 5, 2012 by Daniel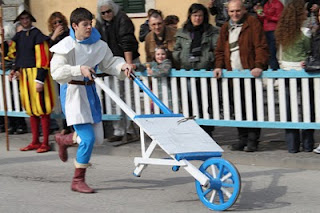 Croak! Croak!
'Princess and the Frog' fable looks like an old-wives' tale before the comical Palio della Rana. Wondering what is it? It means handsome men, wooden wheelbarrows and good ol' grumpy frogs.
For a perfect light-hearted Italian trip, head to Fermignano in the Marche region during the Sunday after Easter. Because, that is when the Golden Frog race takes place in town. Usually people celebrate the day their city got freedom by holding patriotic assemblies. But, fascinating Fermignano folks rejoice their independence day from Montefeltro by conducting a funny frog race.
Do not get confused when you spot the parade of Italians clad in exuberant medieval costumes. No, you are not imagining things. To spread the zest, people strut their stuff in old-world gowns and dressy suits on the day before the race. As if the extravagant parade is not enough to heads up the lazy street-strollers, the whole area is crowded with foot-tapping music, lip-smacking foods and an amazing air show.
With energy level of the folks at its peak, Palio della Rana begins on Sunday with loads of cheers and beers. Fired-up young lads dressed up in different color costumes get ready to compete to win the Palio. Every color represents the one of the 5 districts of Fermignano. Each guy has a wheelbarrow with his frog on it.
The contenders run through the town by pushing their wheelbarrows. No peevish frog likes the bumpy ride, so it will simply jump off from the barrow. If the frog decides to get lost, the man ought to put down his wheelbarrow, catch his frog and continue the race. The first brave runner to finish the given distance wins the Palio della Rana.
Every frog goes through a series of rigorous medical inspection by an expert veterinary doctor before the race. Do not laugh! This race is regarded as one of the serious events in Italy. Those who keep straight-face during this amusing Italian tradition sure deserve an Oscar.
Know more about this enchanting town and get more Italy travel tips at PerilloTours.com! The online vacation organizers offer excellent tour packages at affordable prices.
Photo By : vallenuova.blogspot.in