Published on Saturday, April 7, 2012 by JacobMartin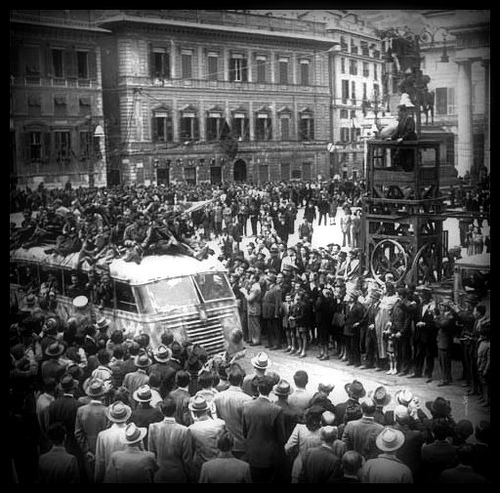 April is a month for Italian festivals, but if you happen to be in Italy on 25th of April, then you are one among the lucky ones to celebrate a special day with Italians. Yes, April 25th commemorates the liberation of Italy by allied troops in the II world war – 1945.
The Italian Resistance Movement, together with the help of allied forces fought against the Nazis, who invaded Italy, and liberated the people of Italy from the fascist regime. Men and women had an equal participation in this struggle and finally won their liberty on April 25th 1945. This day is dedicated to honor people, who lost their lives due to the war and atrocities committed by the Nazis. This day is especially dedicated to honor partisans of the Italian Resistance Movement.
Liberation day in Italy is one of the most celebrated public holidays of the nation. Liberation day celebration in Italy is like a festival that marks the end of Mussolini regime. You can see the entire nation celebrating its liberation by large processions, concerts, food festivals, political rallies, and speeches honoring the partisans. They not only celebrate this as a day of liberation, but also dedicate the day to save the world from dictatorship and suppression.
As a part of the liberation day ceremony, the President of Italy visits Ardeatine Caves Mausoleum in Rome to pay tribute to the martyrs. It is the place where 335 Romans were massacred by the Nazis in 1944. Another place that is related to the Liberation day in Italy is Torre dei Caduti in Piazza Vittorio Veneto in the Città Bassa. Torre dei Caduti, is a war memorial built in 1920s and you can see people visiting this place on April 25th to pay honor to martyrs.
On the day of Liberation day In Italy, in every corner of Italian streets you can hear the song 'Bella Ciao'. Every line of this song reminds about the soldiers who were responsible in throwing Mussolini into defeat.
Every event on the day of liberation is dedicated to the martyrs who sacrificed their lives for the sake of their nation. By taking some of the Italy travel advices from PerilloTours.com, be a part of the liberation day celebrations in Italy.
Photo By : gleni.it