Published on Saturday, April 21, 2012 by Daniel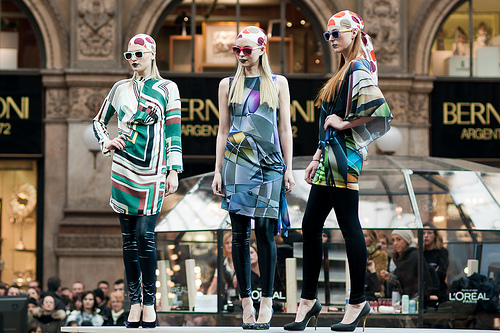 When it comes to fashion, the first country that would cross anyone's mind is Italy. Commonly known as the fashion capital of the world, this country has encouraged fashion designers from the times of kings and queens. Today, the tradition has taken a new shape to celebrate the Italian fashion – the Milano Moda Design. Organized by the non-profitable organization Camera Nazionale della Moda Italiana, this event promotes Italian fashion and Italian fashion designers every year. It is usually organized in conjunction with the famous Salone del Mobile (Milan Furniture Festival) and the Fuori Salone (Public Design Festival), the two great festivals that have secured a place for themselves in the list of distinguished international exhibitions.
Milano Moda Design – A Unique Initiative
Fashion in Italy is more diverse and multifaceted. Milano Moda takes this fusion of fashion and design to the international platform with its appreciable initiatives. The event publishes the works of talented designers on leading national and international dailies to attract audience across the globe. The designs are also published in renowned international magazines. During the event, fashion in Milan reaches a whole new level that is truly blissful to the fashion-conscious.
Milano Moda Design Calendar
Another wonderful feature of this promotional event is the Milano Moda Design calendar. Finding a place in this calendar means the brand needs no more self promotion. The calendar itself provides amazing visibility to the brand and its wonderful designs. The designs are also published in the official site of Camera Nazionale della Moda Italiana for public display.
Mercedes Benz – The Unwavering Partner
The Milano Moda Design enjoys a successful partnership with Mercedes Benz since its inception. Every year, the elite vehicle manufacturer provides a courtesy car service for the event. Recently, it also played host for the Milano Moda Design, and thereby drew the attention of the whole world.
On the whole, the Milano Moda Design is one great event that helps the Italian fashion brands gain International recognition. With its unique approach and structured planning, the event lends a helping hand to the fashion brands and their initiatives.
To know more about Italy and the Italian lifestyle, log on to PerilloTours.com. The site also offers valuable Italy travel tips, so you can plan your trip to this lovely city with ease.
Photo by :  Matt Eone