Published on Sunday, April 29, 2012 by Daniel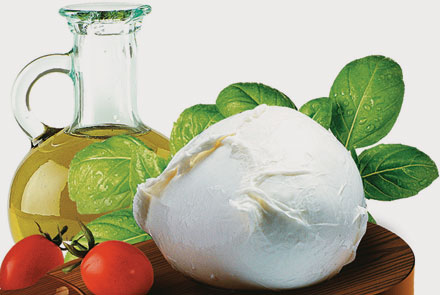 What is the first thing that comes to your mind when you think of pizzas? It's the rich, creamy, mozzarella cheese, isn't it? But did you know that the finest mozzarella cheese comes from Campania? Yes, this Italian region is the birthplace of a delicacy that is enjoyed by the young and old all over the world. Mozzarella of Campania stands out from the rest exclusively for its distinctive taste and nutritional content.
Mozzarella of Campania is available in two distinct varieties. One is made from raw buffalo milk and the other is made from cow's milk. The former, widely known as the Mozzarella di Bufala Campana, is regarded to be the best mozzarella cheese in Italy. However, it doesn't mean the latter is less popular. Also known as Fior di Latte, mozzarella made from cow's milk is commonly used in most Italian restaurants and homes.
So, what makes the Mozzarella di Bufala Campana more special? The answer is the key ingredient- milk!  Mozzarella di Bufala is a soft cheese that is made from the raw milk of water buffaloes, which are found in plenty in Campania.
On the other hand, the Fior di Latte is the most commonly used form of mozzarella.  Comparatively less priced than the Mozzarella di Bufala, this cheese has its very own place in popular Italian foods like pizzas and pastas.
Preparation of the mozzarella of Campania is definitely a skill. Initially, the milk is processed to form the cheese. Once the processing is done, the cheese is worked by hand and kneaded until its gets a smooth and shiny texture. The smooth pieces are then pulled off and soaked in cool water for hours together before you can make a wide range of mozzarella cheese recipes. The pieces are either braided or formed into large balls or smaller ones, commonly known as bocconcini.
Another interesting fact is that the mozzarella of Campania is stored in room temperature. It comes packed in liquid and should be consumed within two days of production. Want to know more about Italy's food culture? Log on to PerilloTours.com. This online site is the best place to get a lot of Italy travel tips and affordable packages for a memorable stay in the wonderful cities of Italy.
Photo By : gustoraro.com