Published on Wednesday, April 18, 2012 by JacobMartin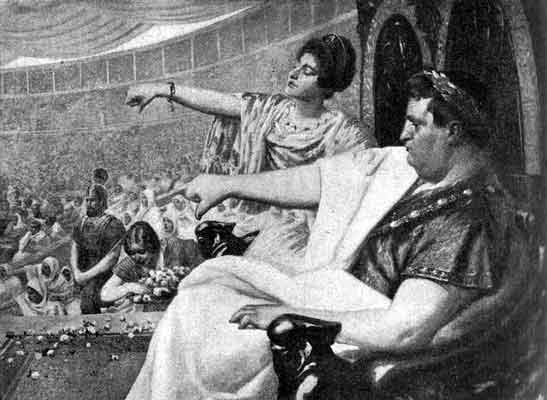 Rome, the city of legends and mythology has been the center of attraction since ancient times. Its lavish ancient palaces, mind-blowing architectural treasures, unbelievable cultures, and many other monuments portray the rich cultural heritage the Romans enjoyed. Apart from these major attractions, Rome is also famous for yet another reason – its valiant emperors! Ancient Roman emperors have strengthened the empire and enhanced its majesty. However, despite their brilliant administration skills and incomparable strength, these rulers were constantly ridiculed for their uncouth behavior and nuttiness. Here's a list of those wacky emperors who are still disparaged for their insanity.
Tiberius (Reign-14 AD to 37 AD)
Tiberius, the successor of Augustus, wasn't much of a good chap. He led a luxurious life and never cared to rule the empire. Within a short period of time, he left Rome and moved to the island of Capri where he created twelve majestic villas, with Villa Jovis being the largest. Situated in the very north-east of the island, this villa serves as an epitome of the 1st century Roman architecture. His presence can also be felt at the Palatine hill in Italy, where the remains of his palace are still found.
Caligula (Reign- 37 AD to 41 AD)
Caligula of Rome was one insane ruler who earned his subject's rage. However, he carried out a lot of public work and created some of the best archeological treasures that the Romans cherish till date. The remnants of his famous aqueducts Aqua Claudia and Anio Novus, near the Caelian and Palatine Hills in central Rome serve as visual treats even today.
Nero (Reign- 54 AD to 68 AD)
Nero was yet another notorious emperor of Rome. Some Nero emperor facts also state that the "Great Fire of Rome" took place during his reign. Apart from rebuilding Rome with accurate planning, Nero also built the famous "Domus Aurea", also known as the golden house. Situated in an area called Colle Oppio in the center of Rome, this monument is worth a visit.
COMMODUS (Reign- 180 AD to 192 AD)
Commodus was better known for his cruel and lewd nature. With great interest in gladiatorial combats, the emperor believed himself to be the reincarnation of the famous Hercules. The Villa of the Quintilii is one of the finest places where you can find the traces of Commodus. Though constructed by the Quintilli brothers in the course of the 2nd century, this villa became a favorite of the emperor, for which he murdered its original owners. This archeological site houses a museum with some of the famous sculptures and paintings that once adorned the villa.
To know more about the monuments built by ancient Roman emperors and famous Italy tourist attractions, log on to PerilloTours.com. The site also provides authentic Rome travel trips that might help you while you are on your vacation.
Photo By : corncommentary.com