Published on Monday, April 16, 2012 by Daniel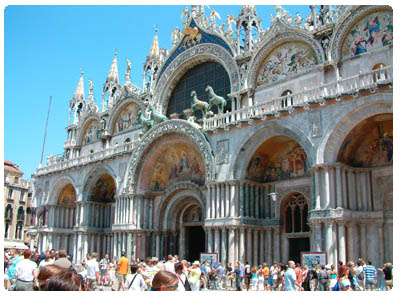 You needn't necessarily wait till next February to show off your love for your dear one! The San Marco Festival in Italy gives you yet another reason to celebrate your love for the apple of your eye. Although this Italian tradition started off as a religious festival, it is being celebrated as a day for lovers in the romantic city of Venice!
The St. Marks festival is celebrated on a day between April 23rd and 25th all around the world. In the romantic city of Venice, this festival is celebrated on April 25th. The St. Marks festival kick starts with a flag hoisting ceremony at the Basilica, followed by a mass at the Patriarch of Venice. This religious event is much bigger now with a number of entertainment activities taking place, including musicals, dance performances, and carnivals!
The Regata dei Traghetti is one exciting part of the celebration – it's a boat race where crews of gondoliers operate ferryboats. During this race, passengers are taken from Castello Gardens along the Riva degli Schiavoni and the Grand Canal, up to the Santa Sofia buoy, after which they will return to the finish line near the St. Mark's Pier.
In Venice, the man offers a long stemmed rose (bocolo) to the woman in his life on the San Marco Festival (also known as the Rosebud Festival or the Festa del Bòcolo.) The woman can be his mother, wife, daughter, friend, or even his mistress. Also, the man uses this opportunity to declare his love to his beloved. If you want your vacation to coincide with any one of the spring festivals in Venice, then the San Marco Festival might be the most romantic choice.
Following the celebrations on 25th April, an Italian food festival is hosted on April 28th to mark the feast of St. Mark at St. Mark the Evangelist Catholic Church. Here you'll find a variety of Italian main courses, appetizers, homemade cookies, and much more – all those food lovers, get ready for a gastronomic treat! Besides this popular Italian food festival, there are also a number of entertainment activities and games, including pizza baking, face painting, Italian ice, and children's craft.
Apart from other Italy tourist attractions, this festival has attracted a lot of tourists in the recent past. Get to know more about the famous Italy travel destinations by visiting PerilloTours.com.
Photo By : religionnerd.com