Published on Monday, April 23, 2012 by Kathy McCabe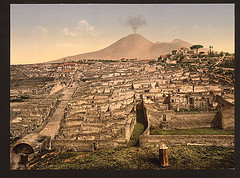 The Grande Progetto Pompei, or Great Pompeii Project was inaugurated this month to revamp the damaged areas of one of the most fragile and historically rich archeological sites in Italy and the world.
After years of media criticism that Italy was not properly caring for the site, as well as alarming structural collapses that occurred over the past year and a half, the Italian government and the European Commission have set a total budget of 105 million euros to be spent on much needed restoration and maintenance of Pompeii.
After the eruption of Mt. Vesuvius in 79 A.D., the vibrant city of Pompeii was buried beneath a heavy curtain of volcanic ash and debris. As tragic as it was, historians were given a crystal clear look at ancient Roman civilization as a result of the disaster. It was almost as if time had stopped—bodies were frozen as they were, frescoes were left unfinished and parts of ancient structures were preserved.
This provided a unique window into the ancient Roman civilization. Excavations had begun as early as the 1700's and the site quickly became very important for European cultural heritage and Italian tourism.
Today, visitors can climb Mt. Vesuvius for stunning views and visit the scavi, or excavations. It is also possible to visit the Amphitheatre of Pompeii, the oldest stone structure of its kind dating back to 80 B.C., and the forum, the heart of the city where political debates and religious manifestations took place.  Don't miss this special site on your Italy trip, take a day trip to Pompeii.
By Kathy McCabe
Ready to travel to Italy this year? Perillo Tours has been leading group trips throughout Italy since 1945 and ItalyVacations.com can custom design an independent itinerary for your dream Italy vacation!
Taking your first trip to Italy in 2012? Learn everything you need to know when you get your FREE copy of The First Timer's Guide to Italy by ItalyTravel.com contributor Kathy McCabe.
Historic photo of Pompeii by The Library of Congress, flickr.com