Published on Sunday, May 6, 2012 by Kathy McCabe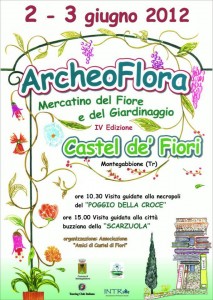 Many spring events in Italy mark the arrival of the season's flowers and colorful plants. The medieval village of Castel di Fiori  in Umbria holds a particularly colorful celebration each June, Archeoflora.   The event, to be held this year on June 2 and 3, brings nature and art lovers together for a celebration of flowers, plants and garden furnishing in this historic town in the Umbrian hills between Orvieto and Chiusi.
"Every year for four years now, floral merchants and artisans of various stripes (think wrought iron smiths and ceramicists from world-famous Deruta) come to this idyllic haven, known as Castel di Fiori, for Archeoflora. The name comes from the variety of floral displays (think a mini Chelsea Garden Show) and the nearby archeological site and a necropolis of the Longobards," says Kip Keenan, President, Assn. Amici di Castel di Fiori.
The exhibitors are distributed around the village. Throughout the day, from 9:00 a.m. until sunset, drinks, homemade cakes, pizza and pasta are served along with local wines. A variety of other activities are also offered, including a visit to the nearby 7th-century necropolis; a visit to the nearby Scarzuola Convent and grounds, listed as one of Italy's national gardens; and the presentation of a new book by a local author.
"For Archeoflora you walk through the arch over a beautiful welcoming floor design made from colorful rose petals. Then you enter the stalls of shops and encounter the many characters in the village who make the Castel di Fiori experience. Ceramica, flowers and herbs, truffles and paintings compete for the wafting scents of grilled sausages and Buffalo mozzarella just trucked in from Naples. Archeoflora is a sensory overload rarely found in the midst of such diminutive villages," says Ed McMullen, a frequent attendee.
The proceeds from Archeoflora will be used to help fund  a new community center in this tiny Umbrian town.
"In a country, where enterpreneurship has waned dramatically and funds to save the Italian patrimony are at exceedingly low levels, the Friends of Castel di Fiori have seized upon the opportunity to successfully promote their medieval village on the international stage," adds Keenan.
By Kathy McCabe
Ready to travel to Italy this year? Perillo Tours has been leading group trips throughout Italy since 1945 and ItalyVacations.com can custom design an independent itinerary for your dream Italy vacation!
Taking your first trip to Italy in 2012? Learn everything you need to know when you get your FREE copy of The First Timer's Guide to Italy by ItalyTravel.com contributor Kathy McCabe.