Published on Tuesday, June 26, 2012 by JacobMartin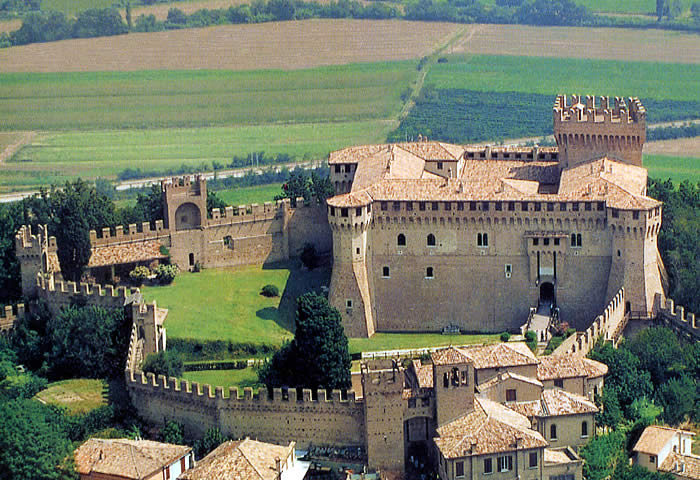 If time couldn't destroy one thing in the town of Gradara, it's its magnificent natural beauty! The historical village of Gradara is one of the most beautiful places in the region of Marche in central Italy. If you are one of those who like to explore new and relatively less known places, then Gradara is the perfect destination for you. When you visit central region of Italy, don't forget to go on a trip to Gradara, which is fast catching up on the list of preferred Italy travel destinations.
The first thing that catches your eyes as you near Gradara is the crenellated, red brick wall with high, blocky turrets. Behind the wall lies the well-preserved culture and traditions of this village. As you enter the village from one of the many gateways, the quintessential beauty of the place is sure to enthrall you. The serene and calm atmosphere of the village with its green surrounding provides an attractive view that you will remember for years to come.
It's not just the eternal beauty that makes Gradara worth visiting, but also its historical buildings and monuments. The first and foremost of all is the Gradara castle. An epitome of ancient architecture, this castle finds a place for itself in history books, exclusively for the tragic love story of Paolo and Francesca. With spacious, well-decorated rooms and breathtaking art pieces all around, this castle serves as a reminder of the glorious past.
When you're in Gradara, you just can't afford to miss the Historic Museum, inside which are preserved antique weapons, equipment for field work, and instruments of warfare. The garden of olives is yet another tourist attraction in this village.
Before you leave this village don't forget to taste the native tongue-tingling delights. The restaurants here serve the local dishes with popular flavors. The region around the village is famous for its vineyards, so make it a point to taste some authentic Italian wines available here.
The town of Gradara is a picturesque location with a long history of art and culture. If you are planning to go on a holiday trip with your family, then Gradara is the perfect destination. To know more about Gradara and other Italy tourist attractions visit PerilloTours.com. This site also offers authentic Italy travel tips.
Photo By : hotelninfea.com