Published on Sunday, June 17, 2012 by Daniel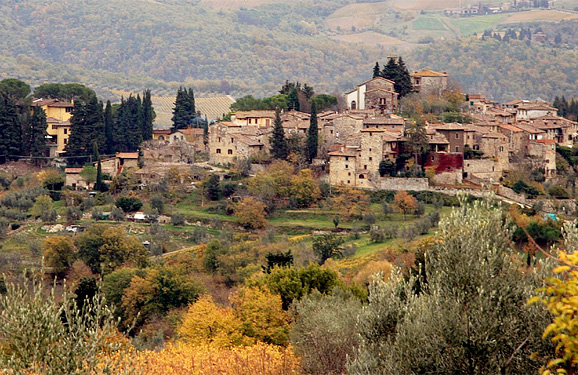 Beautiful sceneries, green lush vineyards, magnificent architecture and quaint villages describe the beautiful town of Greve in Chianti. If you are travelling to the Tuscany region of Italy then make sure you visit this wonderful town. A picturesque place surrounded with landscape of rolling green hills, it is famous for its incredible beauty and stunning wine. The charm and splendor of the city has made it one of the most sought after Italy travel destinations.
You can start your sight-seeing of Greve by visiting Piazza Matteotti. Located in the heart of town, it is a shopper's haven. Shops here sell ceramics, furniture, handicrafts and food supplies. Stay under the arched loggias and shop while keeping away from the glare of the sun. Another interesting place to visit in Piazza Matteotti is the Church of Santa Croce.  Rich in architecture, it houses beautiful paintings of the School of Fra Angelico. This 14th century church will mesmerize you with its architectural splendor and rich history.
After Piazza Matteotti, you should head towards Greve's famous vineyards. Any trip to Grieve in Chianti is incomplete without tasting its wine. Chianti Classico wineries are famous in these parts. The lush green farms dotted with mystical castles create a compelling view. If you are visiting this place in the month of September, you can also witness the city's own wine festival. Le Cantine is a popular place to buy or taste wine. The vintage wines available in its cellar make for a completely enjoyable treat.
Other than wineries and vineyard, the other most famous attraction in Grieve in Chianti is its villas. You can rent a villa and stay in luxurious comfort. The picturesque views with warm hospitality make a heady combination you can't resist.
Travel to Tuscany and head to the city of Greve in Chianti for a fun-filled holiday. To know more about Italy tourist attractions and Italy travel destinations, you can visit PerilloTours.com. This online site provides all the information you need on your travel of Italy.
Photo By : good.is