Published on Monday, June 11, 2012 by Daniel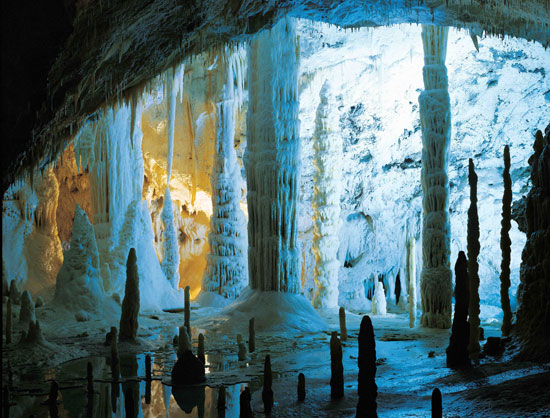 If you have always wanted to relive the adventures of the novel "A Journey to the Center of the Earth," then here is your chance to experience that real thrill! Visit the magnificent Frasassi caves in Italy to enjoy the fun of being among the rocks.  Naturally decorated with beautiful patterns of limestone caverns, these caves are a true delight for any nature lover. These caves were discovered quite recently and will certainly leave you in awe with their sheer beautiful and natural calligraphy of rocks.
Every year thousands of tourists flock to witness this spell-binding place near Genga in Italy. One of the major Italian Caves, they are located just two kilometers from Venice and are easily accessible by bus services once you reach Genga.
Travelers get to visit only five caves or rooms of the many caves and narrow passages that the Grotte Di Frasassi has to offer. Each cave is distinctive on its own with numerous attractions to captivate your interest. The first among these caves is the Ancona Abyss. With great magnitude, it's the largest cave in the world.  As you enter the cave through the tunnel built at the ground level, you'll see different sizes of stalagmites formed due to water dripping from the ceiling, looking like a palm tree. The blue lighting just complements this beautiful creation of nature.
After enjoying the splendid formations in the Abyss, you get to enter the second room. Popularly known as the Grand Canyon, this cave has fissures from which an underground river flows.
The third room is called the Hall of Candles. The small stalagmites on the floor blend perfectly with the lights to look like tiny candles arranged on floor. Untainted white background with a lake view makes it a great place to spend time with your better half.
The Bears Cave has a rock formation which looks remarkably similar to the polar bear. The final part of Frasassi caves in Italy is called the Infinity Room. The story goes that the first travelers got lost here for a whole day and since then it has retained its name of Infinity Room. Full of tites and mites, this cave gives the perfect finishing touch to your tour.
Come here with your loved ones to enjoy a memorable time at this nature's paradise! The other Italy tourist attractions worth a visit near these caves are the Frasassi Gorge and the Romanesque church.
To know more about the famous Italy tourist destinations, visit PerilloTours.com. This site also gives authentic Italy travel tips.