Published on Saturday, June 23, 2012 by Daniel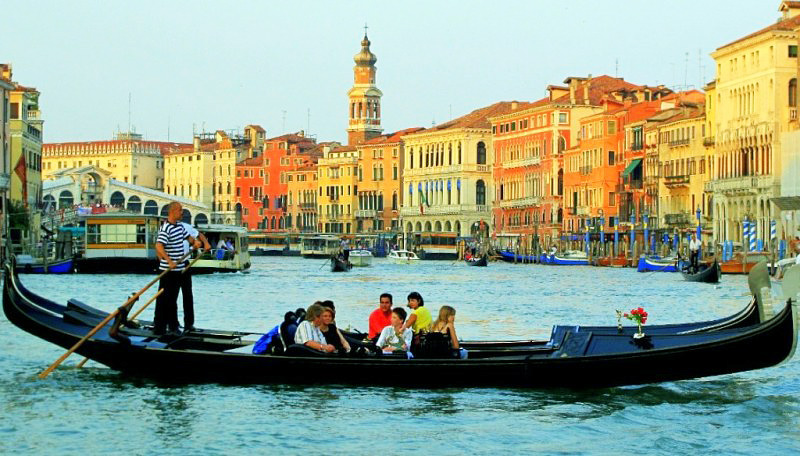 Decorated gondolas floating cross the canals will be an indelible picture in the minds of anyone who has visited Venice. The charm of gondola rides in Venice has since time immemorial attracted visitors to this mesmerizing city. So if you are planning a honeymoon vacation or wish to gift your special someone a memorable time; what can get better than a romantic ride on a beautiful gondola. Visit the city of Venice to enjoy an unforgettable time with your loved one.
It's the beauty of the gondolas that will hold you in thrall. These gondolas have a wooden structure and are decorated in a traditional fashion. You can even get them decorated as per your choice for special occasions. Newlyweds would love a ride on a gondola  ornamented with fragrant flowers.
Apart from all the decorations, it's the music that steals the hearts of couples. Though some of the gondoliers themselves sing song, you can also arrange for other musicians to play for you on the gondola. From May to October, some gondoliers play accordions to add to the charm of the ride. The gentle ride, quiet music and the company of your cherished one, it is an experience you'll love to relive again and again.
Though you can hire a gondola from many places, the ride along the Grand Canal is the most famous one. The best places to pick a gondola are Tronchetto and Piazzale Roma. You should preferably take the ride during the night to enjoy the mesmerizing Venice at its best.
It's not just gondolas, but the city of Venice itself is a known romantic destination. The tourist attractions in Venice have always fascinated lovers from across the globe, and they come in hoards to enjoy the romanticism of the place. The places that you must visit while in Venice are Rialto Bridge and the Bridge of Sighs. These two are one of the most romantic places in Venice.
Visit Venice for a picture perfect romantic holiday with the love of your life and have a memorable time. To know more about Venice travel tips visit PerilloTours.com. This site also offers information about Italy travel destinations and provides exciting Italy travel tours packages.
Photo By : bestholidaydestinations.net