Published on Wednesday, July 11, 2012 by Kathy McCabe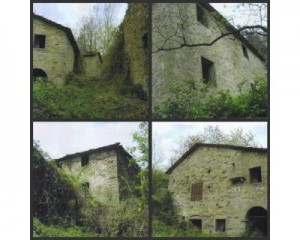 Yes, you read right: an entire village in the hills of Tuscany is for sale on eBay at a price of a bit more than $3 million dollars (2.5 million euros).  If you're looking for more than just an Italian vacation but rather to live in Italy the lord of your own domain, this might be for you…The village  of Pratariccia, about 25 miles from Florence overlooking the Casentino Valley,  has been abandoned for the past 50 years and is now on the market.
The sale includes 20 acres of land  and 25 small houses  that are built entirely of stone that are in need of complete renovation. There would also be the possibility for a new owner of the village to build new property on the land, as long as it is not damaging to the environment. After unsuccessful attempts at selling the abandoned land through an agency, the monastic order that owns Pratariccia  is turning to eBay to attract attention and to greatly expand their visibility among potential buyers.
This borgo sits atop a scenic plateau and borders with the Casentinesi Forest National Park, home of some of the best preserved forests in Italy as well as several rare and protected plant and animal species.  
If you've got the cash, the monks might be up for making a deal at a lower price. Take a look at the eBay ad for more details.
Ready to travel to Italy? Perillo Tours has been leading group trips throughout Italy since 1945 and ItalyVacations.com can custom design an independent itinerary for your dream Italy vacation!
Taking your first trip to Italy in 2012? Learn everything you need to know when you get your FREE copy of The First Timer's Guide to Italy by ItalyTravel.com contributor Kathy McCabe.