Published on Saturday, July 7, 2012 by Daniel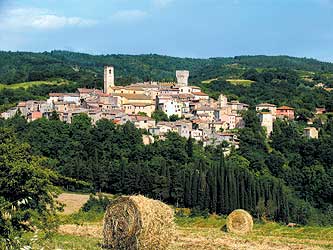 Looking for a perfect place to relax and forget your worries! Visit San Casciano dei Bagni in Italy to feel rejuvenated and refreshed. Located at about 70 km southeast of Siena, San Casciano Dei Bagni is blessed with untouched natural beauty and makes for an ideal vacation spot. It marks its importance as one of the frequently visited Italy travel destinations.
The famous tourist spots that has made it hit among the tourists is its hot baths. The hot baths in San Casciano dei Bagni were introduced in the Etruscan empire and since then they are well known for their healing properties. The relaxing hot baths here help you in easing out the psychological stress to keep your mind and body in harmony. With high mineral content, tradition has it that these hot spring baths helps to control blood pressure, regulate sleep pattern and wash out toxins from time to time.
Some of the famous natural hot baths in the city are Bagno Della Ficoncella, Bagno bossolo and Doccia della testa. These are the natural springs, from which hot water whirls out providing you with an opportunity to dip in them and enjoy their warmness. Other than therapeutic properties they also provide scenic view.
Other than these hot baths there are also some well known spas in San Casciano Dei Bagni. One of the most famous spa resorts in the city is the Fonde Verde Natural Spa Resort Offering world class service for an unforgettable stay; it certainly stands out for its luxury and comfort. Here, you can relate to the oldest spa practices with the traditional oriental medicine to revitalize skin and treat body.
The San Casciano dei Bagni has many other tourist spots to keep you enthralled throughout the trip. The Castle in the city is most popular place, attracting tourist throughout the year. The high walls of castle with their medieval appearance will give you the feel of grandeur and the sense of history that is deeply rooted in the region. The other places in the city that you shouldn't miss are Church of Saint Conception and Capuchin Church. These are the places that provide serenity and calm with the spiritual touch.
A complete place you can, you can have lovely times with your friends and families in this city of Tuscany.If you wish to travel to Tuscany, then log on to PerilloTours.com, who will assist you with more Italy tourist attraction spots and Tuscany travel tips for a truly enjoyable experience.
Photo By : borghitalia.it