Published on Monday, July 23, 2012 by JacobMartin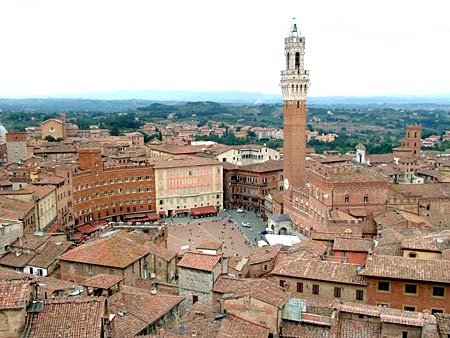 Beautiful buildings, which have stood the test of times to make their architects proud, stand amidst the modern masterpieces in the town of Siena. This lovely medieval city has been preserving its culture with its own urban identity. Travel to Siena and feel the thrill of the place that was once the center of cultural and religious activities. Even today, you can see the reminders of those golden days. Scattered around the city are classic monuments that depict the architectural mastery of ancient Italians.
The best place to start the architectural tour of Siena is the world-famous piazza, better known as Piazza del Campo. If you have seen the famous James Bond flick "The Quantum of Solace", you would easily recognize this famous square. Used as the backdrop of many scenes in the movie, this place has more to offer in reality. It is surrounded by chapels and has a central area paved with red bricks. A perfect place to stroll in evening, it's bound to charm you with its elegant surroundings. And if you are an architecture buff, you would have a lot to explore here. Don't miss to visit this square if you are planning to take a trip to Siena this summer. If you are lucky, you may also get a chance to witness the famous horse race held here every year.
Dominating the campo is the Palazzo Pubblico and its tower, Torre del Mangia. If there was one place where you can learn everything about Siena, it would be Palazzo Pubblico. It is the centre seat of power and houses the municipal office of Siena. From a tourist point of view, it has a central courtyard which opens into Torre del Mangia and to the Civic Museum. The museum houses many medieval masterpieces, which will amaze you with their perfection, telling you the story of those ancient times they belonged to. Everything doesn't end there – if you climb to the top, you can see the mesmerizing aerial view of the city. The Palazzo Pubblico in Siena is one of the top Italy travel destinations.
The other must-see monuments in Siena are Pinacoteca and Piccolomini Palace. Both carry a great legacy and offer you an opportunity to learn interesting facts about the Italian history.
On the whole, Siena redefines the complete meaning of architectural beauty. Travel to Siena to have a memorable and lovely holiday time. To know more about this medieval city and other Italy tourist attractions, visit PerilloTours.com. This online site also offers authentic Italy travel tips.
Photo By : itinerary.it