Published on Friday, July 20, 2012 by Daniel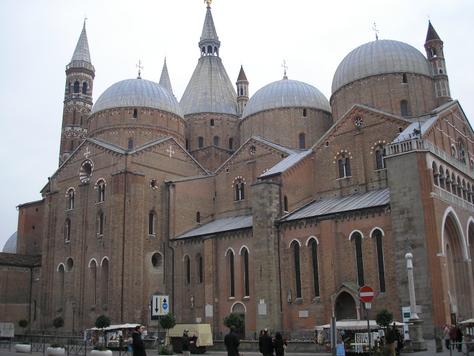 If you want to spend time exploring the grandeur of Italian architecture, then the Basilica of St. Anthony is the perfect spot. However, before paying a visit to this wonderful place, get an insight of it. Find below some interesting facts that will take you through the history for a nostalgic ride.
Although the Basilica of St. Anthony is frequented as a place of pilgrimage by tourists, it was actually a church named 'Santa Maria Mater Domini' in the past. It was reconstructed after the death of St. Anthony in 1231 to bury his body in the church as he wished. The patron of Padua, St. Anthony was the only saint to be canonized within a year after death. The interesting reason behind this early canonization was his extraordinary thaumaturgic skills that made many people go spell bound during his lifetime.
The Basilica of St. Anthony stands proudly as a great exemplar of the architectural skills of the Italians with byzantine exterior and Gothic style interior. You can find almost seven chapels including the chapel of Saint Anthony which is the heart of the basilica. With marble reliefs depicting the miraculous life of the Saint, you can relive the history even as you see them. Don't miss to visit the Treasury Chapel, which preserves the most precious relics like the saint's uncorrupted tongue, jaw bone and other artifacts recovered from the original burial spot.
The Chapel of the Blessed Luke Belludi is also one of the prominent tourist attractions of Italy which has the sepulcher of the Saint's travelling companion and successor 'the Blessed Luke Belludi'. Students of Padua particularly pray at this altar to perform well during their exams. Another significant chapel is the 'Chapel of the Black Madonna', dedicated to Santa Maria Mater Domini who was honored by St. Anthony himself.
The basilica has four courtyards, namely Novitiate, Magnolia, Blessed Belludi and the General Courtyard, which boast of extraordinary floral art works and greenish lawns. You can see an audio-visual presentation about the life of St. Anthony in nearly nine languages in the Multi-medial exhibition center to have a better understanding about the basilica.
Without just stopping with reading these facts, plan a tour to this famous pilgrimage. Visit PerilloTours.com to book your trip while getting interesting Italy travel ideas. With their help, you can enjoy sightseeing in Italy to the fullest.
Photo By : igougo.com