Published on Wednesday, July 18, 2012 by Kathy McCabe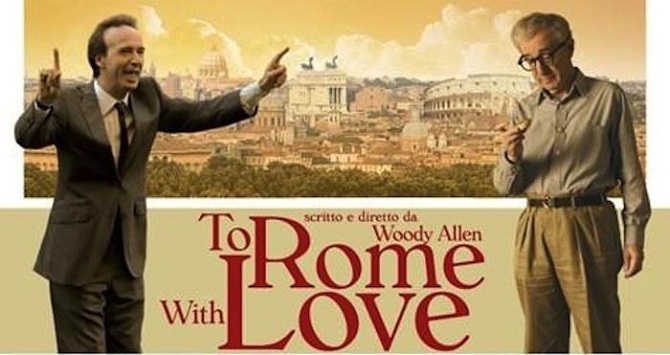 Along with Alec Baldwin, Penelope Cruz, Roberto Benigni and a host of other actors, the city of Rome plays a central character in Woody Allen's new film, To Rome With Love.  Allen is known for making a city the focal point of many of his movies, such as  Barcelona in Vicky Cristina Barcelona and he has done it again with Rome.
The plot revolves around "a well-known American architect reliving his youth, an average middle-class Roman who suddenly finds himself Rome's biggest celebrity, a young provincial couple drawn into separate romantic encounters, and an American opera director endeavoring to put a singing mortician on stage"
Here are some of our favorite spots in Rome where To Rome With Love was filmed:
Piazza Venezia: The movie opens in this Roman square, home to the imposing Victor Emmanuel II Monument, nicknamed "the wedding cake" by Italians. Victor Emmanuel was the first kind of unified Italy and the structure took 24 years to complete (1911-1935). It is here that one of the main characters Hayley (played by Alison Pill) meets Italian lawyer Michelangelo (Flavio Parenti) while looking for her way to Rome's Trevi Fountain.  
Trastevere:  Hands down one of the most picturesque neighborhoods in Rome, Trastevere is the home to American couple Sally and Jack (Greta Gerwig and Jesse Eisenberg). There's a lot of "running into each other" in the movie and it is in Trastevere that Jack, an architecture student, meets the architect (played by Alec Baldwin) that he has long idolized.  During the day, tourists should not miss two of Rome's oldest and most impressive churches:  Santa Cecilia and Santa Maria in Trastevere.  By night, the ancient cobble stoned streets, city lights and lively atmosphere make for a wonderful evening on the town.
Garbatella: Many foreigners have never even heard of the Roman neighborhood  of Garbatella but many have visited it when exploring the famous Basilica of St. Paul Outside the Walls.  Enter through the historic Via delle Sette Chiese and admire the barochetto style architecture. Grab a drink at Bar Foschi, a lively bar that used to be renowned film director Pier Paolo Pasolini's favorite hangout spot. Finally, eat the pasta e fagioli or gnocchi e trippa at the famous Dar Moschino restaurant.
The Spanish Steps: If you've been to Rome, we're sure you've already seen these. However, this architectural masterpiece and historic symbol of Rome never stops inspiring artists near and far. ""This city is really special. I could stand here all night, it's too beautiful," the main character Hayley says in the film.  Climb to the top of the staircase and visit the Trinita' dei Monti Church, grab a gelato and people watch from the steps, or if you're feeling the muse, it's the perfect spot to create your own work of art.
If you're planning to follow the plot of To Rome with Love and need a place to stay in the Eternal City, check into these Rome hotels including our favorite, the Rose Garden Palace Hotel.
Ready to travel to Italy? Perillo Tours has been leading group trips throughout Italy since 1945 and ItalyVacations.com can custom design an independent itinerary for your dream Italy vacation!
Taking your first trip to Italy in 2012? Learn everything you need to know when you get your FREE copy of The First Timer's Guide to Italy by ItalyTravel.com contributor Kathy McCabe.