Published on Monday, August 13, 2012 by Kathy McCabe
Morning show host Kelly Ripa is a big fan of travel to Italy; she was recently spotted on vacation in Venice with her family. But it turns out that Ripa's mom thinks watching Perillo Tours' Italy videos is even better than an actual trip to Italy! Watch this clip for an explanation…
While appearing on Live with Kelly!, actress Amy Adams said that she doesn't travel much and gets vacation envy from looking at other people's travels on Facebook.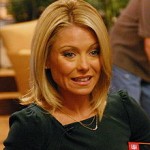 Host Kelly Ripa told Adams, "I'm going to give you a piece of advice because my mother doesn't like to travel so she gets those Mario Perillo Tour videos. She's like,  I don't need to go to Italy, 'I've already been there with the Perillo tour' and she watches the video. She says it is better than traveling there because you get to see all of the highlights without the lines."
Want to see for yourself the Italyvideos that Ripa's mother loves? They're free and will be sent to your home on DVD.  Order your Perillo Tour videos here.