Published on Friday, August 24, 2012 by Kathy McCabe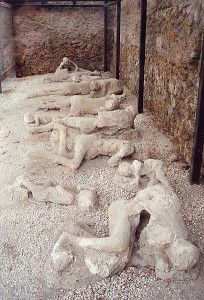 Anyone who has toured Pompeii has some idea of the terror its citizens endured on August 24, 79 A.D. All you have to do is look at one of the most popular exhibits at this archaeological site.  The "Garden of Fugitives" is a series of plaster casts of how Pompeiians where frozen in time trying to outrun the eruption of nearby Mt. Vesuvius.  
But what the residents of Pompeii endured that day is still mysterious and fascinating 1,933 years later. Over on Twitter, Pliny the Elder (or really the folks at the Denver Museum of Nature and Science) is live tweeting the events of this day as if they were happening now. Pliny the Elder was a Roman author and philosopher who died on August 25, 79 A.D. while attempting to rescue (by ship) a friend and his family who were caught by the eruption of Vesuvius. The Denver Museum of Nature and Science is about to open an exhibit called A Day in Pompeii.
The city of Pompeii was rediscovered in 1748 and has been excavated over the centuries. This UNESCO World Heritage Site gets 2.5 million visitor per year and is a must-visit for anyone traveling to Italy.
Ready to travel to Italy? Perillo Tours has been leading group trips throughout Italy since 1945 and ItalyVacations.com can custom design an independent itinerary for your dream Italy vacation!
Taking your first trip to Italy soon? Learn everything you need to know when you get your FREE copy of The First Timer's Guide to Italy by ItalyTravel.com contributor Kathy McCabe.
Photo by LanceVortex, wikipedia.org