Published on Wednesday, August 15, 2012 by Kathy McCabe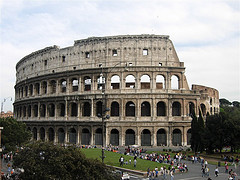 While Pisa was thought to have cornered the market on Italy's most famous "leaning" building, Rome appears to be taking a page from the Pisa playbook as scientists say Rome's Colosseum is leaning to one side by as much as  15 inches. Officials announced this month that the Colosseum will undergo 2.5 years of repairs starting in December 2012.  
The good news is that the ancient monument will remain open to visitors during restoration and the Italian government, still suffering from a serious financial crisis, found someone to foot the bill!  Tod's, the luxury leather goods company, has agreed to sponsor the restoration work to the tune of $30 million.
What does this mean for travelers to Rome? Now more than ever, it is best to explore these ancient treasures with an experienced guide who can help you skip the lines, navigate the construction and bring the history of these structures to life with little-known facts and compelling tales.
For the independent traveler, a full day tour of ancient Rome is ideal. Our eight-hour excursion with a long break for lunch hits all the highlights without feeling rushed. You will explore the Colosseum, Palatine Hill including view of Circus Maximus, the Roman Forum,  Trajan's Column,  Piazza Venezia, the Victor Emmanuel II Monument, Piazza Campidoglio and the Capitoline Museums.
If you don't have a full day to devote to ancient Rome, the half day Rome tour takes you deep inside the Colosseum and through the Roman Forum for an immersive experience captivating all of the senses. You can almost hear the roar of the crowds cheering on the gladiators to fight to the finish as the emperor looks on…
Ready to travel to Italy? Perillo Tours has been leading group trips throughout Italy since 1945 and ItalyVacations.com can custom design an independent itinerary for your dream Italy vacation!
Taking your first trip to Italy soon? Learn everything you need to know when you get your FREE copy of The First Timer's Guide to Italy by ItalyTravel.com contributor Kathy McCabe.
Photo by xiquinhosilva, flickr.com