Published on Friday, August 17, 2012 by Kathy McCabe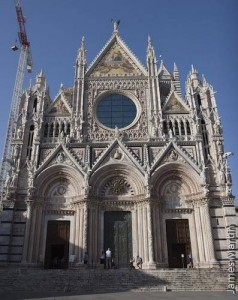 If you're visiting Siena in August, September or October 2012, don't miss the rare chance to see the famous floor mosaics,  at Siena's cathedral or Duomo. Giorgio Vasari called the floor of Siena's Duomo "the most beautiful, big and magnificent that has ever been done." The mosaics, dating from the 14th to 16th centuries, are normally covered by carpet to protect them from wear and tear but between August 18 and October 24, 2012, they will be on public display.
About.com reports, "…the floor's 56 mosaic panels will be completely unveiled. There is an additional charge for visiting the cathedral during this period."
Arttrav.com has a wonderful collection of photos of the floor and detailed explanations of what visitors will see. Art historian Alexandra Korey of arttrav.com explains, "…the marble intarsia works of art  tell biblical narratives and represent allegories and took centuries to complete…there are 56 large scenes represented by major Sienese artists including Sassetta, Domenico di Bartolo, Matteo di Giovanni, and Domenico Beccafumi, as well as with the intervention of some 'foreign' artists like Pinturicchio."
Siena's Duomo is well worth visiting any time of year. It was built in the 13th century and the exterior incorporates the symbolic colors of Siena – black and white – which are carried through inside into the stunning pulpit crafted of Carrara marble. The glass windows are fascinating unto themselves; the round choir window dating to 1288 and designed by Duccio is one of the earliest examples of Italian stained glass. The window in the facade depicts The Last Supper. The cathedral is a great art museum unto itself housing The Feast of Herod by Donatello and sculptures by Bernini and Michelangelo. The duomo is open daily from 10:30 a.m. to 7:30 p.m. (Sunday and holidays from 9:30 a.m. to 6 p.m.) Learn more about Siena here.
Ready to travel to Italy? Perillo Tours has been leading group trips throughout Italy since 1945 and ItalyVacations.com can custom design an independent itinerary for your dream Italy vacation!
Taking your first trip to Italy soon? Learn everything you need to know when you get your FREE copy of The First Timer's Guide to Italy by ItalyTravel.com contributor Kathy McCabe.