Published on Thursday, September 13, 2012 by Kathy McCabe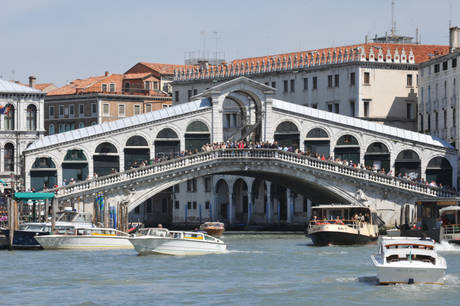 Looking to make an impression on the upwards of 15 million people who visit the city of Venice Italy each year? Maybe you should take out an ad on the city's famous Rialto Bridge. The Venice city council is looking for a sponsor to pay for 5 million euros of renovations on the celebrated bridge. In return, the sponsor will receive advertising on the bridge as well as the possibility of organizing special events in nearby St. Mark's Square and at the Doge's Palace.
According to Italian news agency ANSA, "Renzo Rosso, owner of clothing company Diesel, has already expressed interest in taking part, and has been rumoured as a principal bankroller for the past year.  The work on the bridge is expected to take 18 months and if all goes to plan it will finish in April 2015.  The city council also plans to restore the wooden Accademia Bridge, also on the Grand Canal, under a similar formula."
The cash-strapped national Italian government and local governments are increasingly turning to sponsors to fund restoration projects. Rome's Colosseum will undergo extensive repairs sponsored by luxury goods maker Tods.
Ready to travel to Italy? Perillo Tours has been leading group trips throughout Italy since 1945 and ItalyVacations.com can custom design an independent itinerary for your dream Italy vacation!
Taking your first trip to Italy soon? Learn everything you need to know when you get your FREE copy of The First Timer's Guide to Italy by ItalyTravel.com contributor Kathy McCabe.