Published on Saturday, September 29, 2012 by Kathy McCabe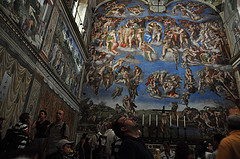 Five million tourists visit the Sistine Chapel every year and one Italian writer says the most famous chapel in the world, at the heart of Vatican City, is falling prey to unimaginable disaster because of visitors who act like "drunken herds."
Pietro Citati, a leading Italian literary critic and biographer, writes in an article for Corriere della Sera the the tourist crush has become so much that the Vatican should limit access in order to prevent damage to the chapel's frecoes and restore decorum.
According to The Guardian, "Describing a visit, Citati claimed that 'in the universal confusion, no one saw anything' and 'any form of contemplation was impossible.'  The answer, he said, was to reduce the number of visitors drastically."
The manager of the Vatican Museums Antonio Paolucci responded to Citati's charges in a piece for L'Osservatore Romano writing:
"The days when only Russian grand dukes and English lords or [American art expert] Bernard Berenson could gain access to the great masterpieces are definitely over. We have entered the era of large-scale tourism, and millions want to enjoy our historical culture. Limiting numbers is unthinkable."
Some Italian sites do limit visitors in order to preserve art. Probably the best example are the limited entrances to the Convent of Santa Maria della Grazie in Milan where The Last Supper is on display.
What do you think? Should the number of visitors to the Sistine Chapel be limited?
Ready to travel to Italy? Perillo Tours has been leading group trips throughout Italy since 1945 and ItalyVacations.com can custom design an independent itinerary for your dream Italy vacation!
Taking your first trip to Italy soon? Learn everything you need to know when you get your FREE copy of The First Timer's Guide to Italy by ItalyTravel.com contributor Kathy McCabe.
Photo by Francisco Antunes, flickr.com