Published on Wednesday, September 19, 2012 by Kathy McCabe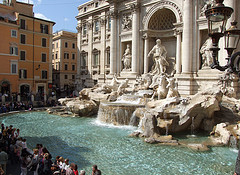 As the legend says, throw a coin or coins in Rome's Trevi Fountain, you will be assured a return visit to Rome. Nearly every visitor to Rome makes the trek to the Eternal City's most famous fountain in order to not tempt fate and take part in the age old ritual that was chronicled in the movie Three Coins in the Fountain.  (See more below on how many coins and how they should be thrown.)
With so many folks throwing coins of all nations (euros, British pounds/pence, American pennies) into the fountain, what becomes of all that money? The Catholic charity Caritas fishes the coins out of the fountain once a week — to the tune of $3,700 per day. That money goes to feed and shelter the poor and sick in Rome.
Now, back to how many coins to throw and how. The original legend puports that you only need to throw one coin in the fountain but how you throw it is important – with your back to the fountain, throwing the coin with your right hand over your left shoulder. Italylogue reports that many people think three is the right number of coins: "Perhaps thanks in part to the film Three Coins in the Fountain, a newer story also routinely makes the rounds that says throwing one coin means a return to Rome, a second coin leads to a new romance, and a third coin leads to marriage."
Ready to travel to Italy? Perillo Tours has been leading group trips throughout Italy since 1945 and ItalyVacations.com can custom design an independent itinerary for your dream Italy vacation!
Taking your first trip to Italy soon? Learn everything you need to know when you get your FREE copy of The First Timer's Guide to Italy by ItalyTravel.com contributor Kathy McCabe.
Photo by gnuckx, flickr.com