Published on Thursday, September 20, 2012 by Steve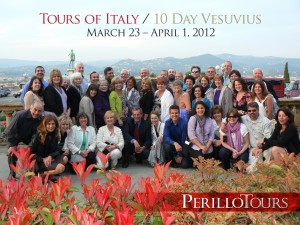 How many times have you said to friends and family, "let's plan a big group trip to Italy for next year" only to have the moment pass and no trip on the horizon?
Don't let the chance to experience Italy with your favorite group of people pass you by…in fact at Perillo Tours, we make group travel to Italy fun, easy and free for the person leading the group!
Choose one of these group options:
1. Enjoy a customized tour of Italy. Bring at least 15 people and you travel free!
2. See a great Perillo Tours itinerary for Italy? Bring at least 25 people and take over one of our tour departures, exclusively for your group. You travel free!
Customized Group: Bring At Least 15 People to Italy and YOU Travel FREE!
For groups of 15 or more, Perillo Tours Groups can customize a tour of Italy specifically for your group's interests and budget: Your group, your way. These are one-of-a-kind journeys; exclusive and unique. Plus, you travel free if you bring at least 15 paying guests in your group. 
This customized group experience is perfect for:
+ Families
+ Weddings
+ Pre and Post Cruise
+ Faith Based Travelers
+ Educational and Alumni Groups
+ Affinity Groups and Clubs
+ Not For Profit Fundraising
+ Incentives and Congresses
+ Museum Groups
+ Heritage Travel
Your Group Can Travel on One of Perillo's Famous Escorted Tours
We welcome families and other smaller groups to travel to with our other guests on any of our escorted tours in Italy. What a great chance to travel with people you know and make new friends, too!
See a tour date in our brochure or website? You can take that tour over, and make it your own private tour for just you and 25 or more of your friends and family!
Book a private departure of any Perillo Tours brochure itinerary exclusively for your group. You can choose your own departure dates and travel on a private basis, no sharing. Perfect option for families traveling. You travel free with 25 paying guests.
Find out more about Perillo Tours group travel here or call us at 1-800-431-1515. We can't wait to welcome your group for the trip of a lifetime!