Published on Monday, September 24, 2012 by Kathy McCabe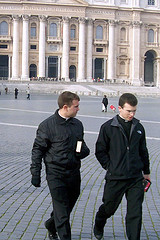 The Vatican recently completed a month-long pilot project placing priests in the Vatican Museums to offer interaction with visitors and hails it a success.
"There are so many themes that are spoken of. We might speak of art and faith or of economics and faith. Some people come to share their experiences or difficulties in their personal, professional or family lives," Father Isaac Vondoame told the Catholic News Agency.
Vondoame is one of two priests who were stationed in the Vatican Museums during the month of August. Both priests report dozens of conversations per day with curious visitors. The priests and museum-goers discussed everything from the meaning of artwork to spiritual concerns. One priest heard confession right on the spot.
Ready to travel to Italy? Perillo Tours has been leading group trips throughout Italy since 1945 and ItalyVacations.com can custom design an independent itinerary for your dream Italy vacation!
Taking your first trip to Italy soon? Learn everything you need to know when you get your FREE copy of The First Timer's Guide to Italy by ItalyTravel.com contributor Kathy McCabe.
Photo by runneralan, flickr.com