Published on Friday, October 5, 2012 by Steve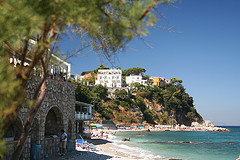 For me to pick a favorite tour is like choosing a favorite child, but the 10-Day Vesuvius Tour is in the running for one of my top picks. Why?
 It's Affordable! Starting at $2890 per person, Vesuvius packs in a lot for the price including first clas deluxe hotels, many delicious meals, experienced guides and transportation via our state-of-the-art motorcoaches.
 Hits the Highlights. Never been to Italy before and want to see the very best of the country. Vesuvius includes overnights in Florence, Rome and Sorrento with visits to Venice, Naples, Pompeii and the famous isle of Capri! Did we miss anything? I don't think so.
Ready to Go Right Now? Don't want to wait till next summer to visit Italy? We've got departures in November and starting again in February.
Andiamo (let's go) with Perillo's 10-Day Vesuvius Tour!
Photo by neth_ra, flickr.com