Published on Monday, October 8, 2012 by Kathy McCabe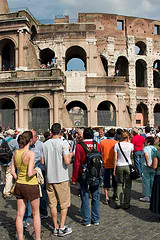 In Rome, they've dubbed it "the War on the Sandwich." Starting October 1, it is  illegal to snack on or near any monuments in the Eternal City. Rome's mayor spearheaded the new legislation.
According to NBC News, "Tourists will still be allowed to eat while they walk, but stop with a bag of chips in your hands or sit down while chewing on your panino, and you are eligible for a fine of 25 to 500 euros ($32 to $650)."
On the first day the law was in effect, two officers near the Colosseum fined seven tourists — and that was just in the morning!
"Eating on monuments can really get out of control," Officer Magdi Adib told NBC. "Once I caught a group of tourists who set a table on the Spanish Steps, with table cloth and cutlery! This has to stop."
What do you think about the "sandwich crackdown"? Leave a comment below.
Ready to travel to Italy? Perillo Tours has been leading group trips throughout Italy since 1945 and ItalyVacations.com can custom design an independent itinerary for your dream Italy vacation!
Taking your first trip to Italy soon? Learn everything you need to know when you get your FREE copy of The First Timer's Guide to Italy by ItalyTravel.com contributor Kathy McCabe
Photo by jimmyharris, flickr.com