Published on Monday, October 22, 2012 by Kathy McCabe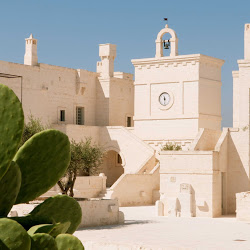 There's nothing like a celebrity wedding to bring attention to a lesser known destination and the wedding of Justin Timberlake and Jessica Biel in Puglia last week has put this southern Italian region on the map. The singer and actress were married at a new, stunning luxury hotel in the seaside town of Savelletri.
Borgo Egnazia, an estate of white-washed traditional Pugliese buildings, played host to the nuptials. Those who want to recreate a bit of the magic can check into Borgo Egnazia which offers everything from luxury suites to three-bedroom villas. The resort caters to gourmands, golfers and families with a cooking school, 18-hole golf course and a kids club. The ruins of the ancient city of Egnazia (and a related museum) are right next to the property.
Whether or you not you visit this particular estate, Puglia itself is well worth a trip. This long strip of land on the Adriatic comprising the "heel" of Italy has a unique landscape devoid of mountains and covered by plains and hills. Farms devoted to vineyards, olive trees and vegetables are separated by neatly constructed stone walls. The giant ancient olive trees, several feet in diameter, twisted and towering, are startling. The area surrounding Alberobello is dotted with trulli. These small conical buildings, first built in the 13th century, are created out of limestone and unique to Puglia. Puglia's sandy beaches are a big draw; three-quarters of the region borders the sea. Puglia's strategic location made it a target for conquering and colonization by Byzantines, Saracens, Greeks, Romans, Normans, Swabians, Turks and Spaniards, among others.
Ready to travel to Italy? Perillo Tours has been leading group trips throughout Italy since 1945 and ItalyVacations.com can custom design an independent itinerary for your dream Italy vacation!
Taking your first trip to Italy soon? Learn everything you need to know when you get your FREE copy of The First Timer's Guide to Italy by ItalyTravel.com contributor Kathy McCabe