Published on Thursday, October 25, 2012 by Kathy McCabe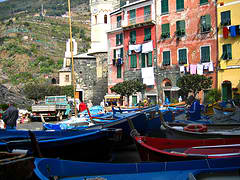 On October 25, 2011, the Cinque Terre – the five famous fishing villages linked together on northern Italy's coast of Liguria – were bruised and batter by storms and severe flooding. A number of residents lost their lives. Two of the World Heritage Site's villages in particular were severely damaged – Vernazza and Monterosso.
Today on the first anniversary of the disaster, local residents had a similar scare. Italian officials warned the residents of Borghetto Vara to evacuate their homes by Friday morning as the risk of a repeat of last year's flooding loomed large.
Locals and foreign supporters banned together over the year to raise funds to repair the damage to the beloved villages. Rebuild Monterosso and Save Vernazza have worked diligently to bring these towns back to life. Let's hope there is no further flooding this fall.
Ready to travel to Italy? Perillo Tours has been leading group trips throughout Italy since 1945 and ItalyVacations.com can custom design an independent itinerary for your dream Italy vacation!
Taking your first trip to Italy soon? Learn everything you need to know when you get your FREE copy of The First Timer's Guide to Italy by ItalyTravel.com contributor Kathy McCabe