Published on Friday, October 12, 2012 by Kathy McCabe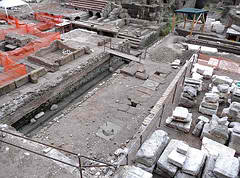 There were few moments more dramatic in ancient Rome than the stabbing of Emperor Julius Caesar; but until now the details have been murky. Archaeologists from the Spanish National Research Council say they have now pinpointed the location and details of the famous act.
According to the Huffington Post, "The scientists said in a written statement that they found a concrete structure, about three meters wide, inside the Pompey's Theater in Rome's historic Torre Argentina square. The researchers identified the structure as a monument placed in the location of Caesar's murder by order of his adopted son Augustus–a sort of "x marks the spot" discovery. Based on their research and historic texts, the scientists suggest Caesar was stabbed while sitting in a chair as he oversaw a meeting of the Senate at the bottom of the Curia of Pompey." (Photo is of the remains of the site.)
Historians have always believed that Caesar was  killed in the Curia of Pompey on March 15, 44 B.C. but they have lacked concrete evidence. While they believe they are certain that Caesar was stabbed here, they are not yet sure if he died at the Curia of Pompey or if he expired elsewhere.
Ready to travel to Italy? Perillo Tours has been leading group trips throughout Italy since 1945 and ItalyVacations.com can custom design an independent itinerary for your dream Italy vacation!
Taking your first trip to Italy soon? Learn everything you need to know when you get your FREE copy of The First Timer's Guide to Italy by ItalyTravel.com contributor Kathy McCabe