Published on Wednesday, November 7, 2012 by Kathy McCabe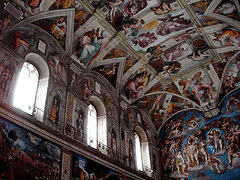 Slightly belated birthday wishes to one of the most famous sites in all of Italy – the Sistine Chapel – a must on every tour of Rome. The Vatican beauty turned 500 years young on October 31st. But you don't get to such a ripe old age without some controversy, some are calling for visits to the Sistine Chapel to be limited. The grand dame is a popular lady and five million visitors a year might be too much for her.
A little background on the Sistine Chapel:  The stunning frescoes were painted by the great Michelangelo – mostly done while lying on his back – between 1508 and 1512. The most famous image is that of God extending his finger to Adam to give life to Adam. The chapel underwent a 14-year  renovation in the 1990s.
In honor of the 500th birthday of the Renaissance masterpiece, Pope Benedict II held a vesper service on October 31st. It was reminiscent of the evening prayer service Pope Julius II held on October 31, 1512 to inaugurate the chapel.
Ready to travel to Italy? Perillo Tours has been leading group trips throughout Italy since 1945 and ItalyVacations.com can custom design an independent itinerary for your dream Italy vacation!
Taking your first trip to Italy soon? Learn everything you need to know when you get your FREE copy of The First Timer's Guide to Italy by ItalyTravel.com contributor Kathy McCabe
Photo by Jon Rawlinson, flickr.com