Published on Thursday, November 29, 2012 by Kathy McCabe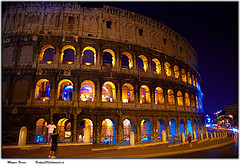 Officials in Rome have announced that a protective barrier will be erected around the Colosseum in order to protect visitors and passersby from falling chunks of the ancient structure.  Over the past year, the pieces have presented more and more of a safety hazard.
According to Wanted in Rome, "The impassable security barrier will be composed of cast iron and cement pillars and will be erected at street level at 'mathematically calculated' distances between six and 15 metres from the Colosseum.
The Colosseum is about to undergo an extensive renovation sponsored by Tod's, the luxury leather company. It will remain open to visitors while the repair work is being done.
Ready to travel to Italy? Perillo Tours has been leading group trips throughout Italy since 1945 and ItalyVacations.com can custom design an independent itinerary for your dream Italy vacation!
Taking your first trip to Italy soon? Learn everything you need to know when you get your FREE copy of The First Timer's Guide to Italy by ItalyTravel.com contributor Kathy McCabe
Photo by moyan_brenn, flickr.com