Published on Monday, December 17, 2012 by Kathy McCabe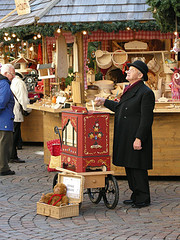 The area of Trentino Alto-Adige is located in the very north of Italy. This beautiful winter wonderland offers several Christmas markets worth visiting:
From November 29 to December 23, the Sudtirol town  of Bolzano hosts a charming Christmas market combining both German and Mediterranean traditions. The Mercatino di Natale (Christkindlmarkt in German) takes over the town squares with twinkling lights and the enticing aroma of vin brûlé (mulled wine). On the weekends, traditional storytellers, trumpeters and musicians gather in the Piazza Walther and in local churches. Area restaurants offer a typical Sudtirolean menu, which mixes German culinary traditions with Italian delights. The artists' market in Piazza Municipio offers unique yuletide ornaments, terracotta and ceramics.
The lovely little ski town of Bressanone, hidden in the Dolomites and dating all the way back to 901 A.D,, puts on the Weihnachtsmarkt (literally, votive night market, another common Christmas market found throughout Germany) from November 29 to January 6, offering equally alluring gifts and delicacies. After the market, visit the Museo di Presepi (Crèche Museum) in the Palazzo Vescovile.
Photo by Yellow Cat, flickr.com