Published on Tuesday, January 8, 2013 by Kathy McCabe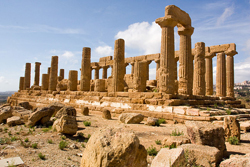 You might think that the only place in the world to see riveting Greek ruins is Greece. But think again…Italy is home to a number of stunning and well-preserved ruins. The Greek Empire colonized parts of southern Italy between the 8th and 5th centuries B.C. leaving behind stunning buildings that remain to this day.
One place to get a glimpse of The Valley of the Temples is in Sicily. The town of Agrigento (called Agrikas in Greek times) is simply a must-visit to explore the remains of seven Doric-style temples. They're considered the best preserved ruins outside of Greece.
Even Greek culture and language is still preserved in parts of southern Italy. Did you know that there are still Italians- in the region of Calabria mostly – who speak a dialect of Greek called Griko? The ties between Greece and Italy remain strong even in the 21st century.
Perillo Tours is going to Greece this year! Save $1,000 on the 2nd passenger on the Greek Island Yacht Cruise Odyssey when you pay in full by January 31st!
Ready to travel to Italy? Perillo Tours has been leading group trips throughout Italy since 1945 and ItalyVacations.com can custom design an independent itinerary for your dream Italy vacation!
Taking your first trip to Italy soon? Learn everything you need to know when you get your FREE copy of The First Timer's Guide to Italy by ItalyTravel.com contributor Kathy McCabe