Published on Wednesday, February 6, 2013 by Steve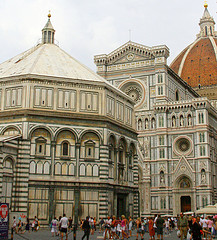 Florence has long been known for its rich history – it is the birthplace of the Renaissance –  as well as being an epicenter of Italian gastronomy.  That's why I'm thrilled to announce our new, independent 6-night Florence Adventure package from ItalyVacations.com.
Rates for this culinary and historical odyssey start at $1,325 per person, based on double, and include six nights hotel accommodations, round-trip airport transfers, city tour, Tuscany wine trail experience, Cinque Terre excursion, cooking class, ground transportation and daily hotel breakfast. The price starts at just $1,325 per person and is available between March 29 and October 26, 2013.
Highlights of this Florence Adventure include:
Walking tour of Florence's historic center with the Accademia and Duomo, Ponte Vecchio, Uffizi Square, the renowned leather market, plus a stop for gelato;
Full day discovering Tuscany's famed wine with winery visits, tastings and a typicalTuscan lunch in a spectacular setting;
Excursion to the Cinque Terre National Park, a UNESCO World Heritage Site, with lunch in a local restaurant and the chance to dive into the clear, blue Mediterranean water (time permitting);
Wanna Be Italiano Cooking Class where a local experienced chef leads a trip to the local market and offers hands-on cooking instruction.
Photo by jay8085, flickr.com