Published on Friday, February 8, 2013 by Kathy McCabe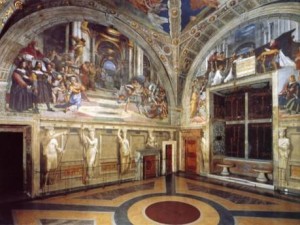 Rome – both an ancient and modern wonder – is constantly evolving. Renovation and restoration are an ongoing part of the landscape of the Eternal City.
At the Vatican Museums,  restoration has now finished on frescoes in one of the Raphael Rooms –  the Room of Heliodorus. The rooms are named after the High Renaissance master painter Raphael.  They were originally built as a suite of apartments for Pope Julius II,
According to Italian news agency ANSA, "The Room of Heliodorus, painted between 1511 and 1514, takes its name from one of the paintings in this chamber – the Biblical expulsion of Heliodorus from the temple. The theme throughout is heavenly protection for the Church and includes portraits of Raphael's patron, Pope Julius II."
Elsewhere in Rome, the Colosseum is undergoing a major restoration and workers have found evidence to change how we think about the structure. It was thought the Colosseum was built completely from shiny white marbe but that's not the case.
"They've uncovered complex decorations, floral patterns in polychrome glory including azure, ochre, pink and green,"  the superintendent of the iconic Rome monument, Rossella Rea, told ANSA.
"We've known since the 19th century that the Colosseum's white splendour was punctuated by square red plaster tiles, but we never expected to find such multi-hued decorations, a veritable riot of colour," she said.
Ready to travel to Italy? Perillo Tours has been leading group trips throughout Italy since 1945 and ItalyVacations.com can custom design an independent itinerary for your dream Italy vacation!
Taking your first trip to Italy soon? Learn everything you need to know when you get your FREE copy of The First Timer's Guide to Italy by ItalyTravel.com contributor Kathy McCabe